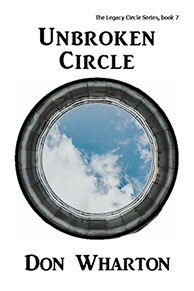 UNBROKEN CIRCLE completes the seven book series "The Legacy Circle" from author Don Wharton
Wharton's much-heralded conversational style is at its best in this volume as main character David Freeman completes his journey through his high school years, accompanied by his three close friends, nicknamed The Hossmen.
David experiences challenges to his faith in God, along with his first taste of love and a deeply emotional look at the Vietnam war. Wharton also delicately tackles racial concerns, giving readers much-needed approaches to bravely confront issues that face us today.
Unbroken Circle
$10 (Soft Cover or E-book)